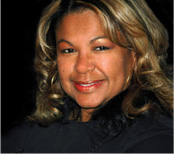 Chef Dorothy Whittenburg was a successful Fortune 500™ corporate event manager who transitioned into her dream career as a personal chef and caterer in the Bay Area. Her clients include time-strapped parents, new moms, venture capitalists, doctors, winery owners, CEO's, and busy professionals with a taste for her artistic, nutritious dishes and her exuberant personality.
Her lifelong passion for flavorful and vibrant foods began with watching her mother, grandmother, and cousins who were all exceptional cooks known for hosting legendary parties. Her culinary education broadened during travel to more than 25 countries and periods of living in Europe and South America. She first earned a business degree from Golden Gate University, then a culinary degree from the prestigious California Culinary Academy in San Francisco. Her culinary style further developed while studying under award-winning Chef Heidi Krahling at Insalata's in San Anselmo, California.
Chef Dorothy specializes in fresh, seasonal, colorful, luscious food. Never fussy, her cuisine is clean, visually beautiful, elegant, and flexible enough to be customized for dietary preferences. Dorothy's European sensibility means she thinks everyone should take the time to savor meals and be curious about food and flavors. Whether for formal dinners and parties, hip gatherings, or informal family entertaining, Chef Dorothy plans menus, shops, cooks, and cleans up — leaving you to relax and enjoy her wonderful creations.
Chef Dorothy blends exotic flavors from her multi-ethnic background with Mediterranean, Asian, and North African cuisines.


"She is very passionate about her ingredients and always working on new and creative recipes. I appreciated how she was always open to suggestions and to customizing her menus to meet our dietary needs."
Susan - Belvedere
"Expecting our first child, having a husband who could barely scramble eggs and not having family nearby, motivated me to contact Chef Dorothy. She cooked for us on a weekly basis before my due date and for about six weeks following the birth of our daughter. What a life saver!"
Alicia – San Francisco